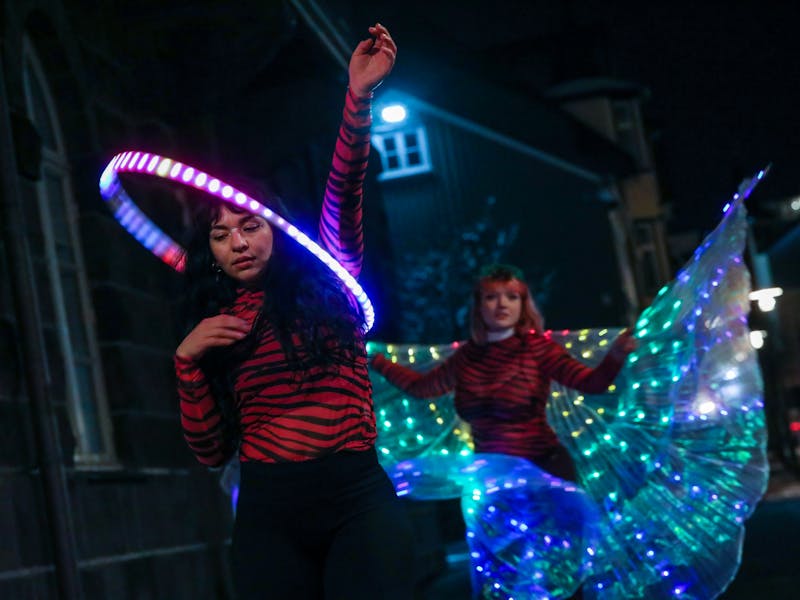 The run starts and ends at the Reykjavik Art Museum. Participants play a significant role when they run past fun stations surrounded by lights, music, and other performing arts.
START: REYKJAVIK ART MUSEUM - HAFNARHÚSIÐ
The run starts in Hafnarhúsið. Through the rhythmic music and lights, participants ditch their inhibitions and enjoy their own electric runway. The run also finishes inside the Museum.
AUSTURVÖLLUR
Dancers display fantastic dancers decorated with illuminated equipment.
HARPA CONCERT HALL
Our beautiful concert hall, Harpa, will be lit up to celebrate this day, so prepare your mind for a mesmerizing sight.
INGÓLFSSTRÆTI ROAD
Music and LED hula hoop performers will cheer you on.
HALLGRÍMSKIRKJA CHURCH
Hallgrimskirkja church is one of the main landmarks in Reykjavik. Imagine you are walking into another dimension when entering the church, experience the music and lights in perfect unity in this magnificent building and just take it all in. Hallgrímskirkja church is the only part of the course where participants are not allowed to run, only walk.
NJARÐARGATA ROAD
Led performers will cheer you on and show some tricks to their music.
HLJÓMSKÁLAGARÐURINN AND HLJÓMSKÁLINN
Inside the garden, there will be performers playing with fire to their music and you simply do not want to miss it - take a minute and watch them. After the bridge over the pond, you will be passing Hljómskálinn, a small building that was built in 1922 and housing the Reykjavik city band, lights will be all around and reflect in the water you will be running along. The water is called Tjörnin, which translates to simply, The Pond.
BJARKARGATA ROAD
A performer will bring some joy to the runners with lights and music.
REYKJAVIK'S CITY HALL
The City Hall will be decorated with colourful lights and music will be playing as participants run through the building. The City Hall is located by the Pond (Tjörnin).
VONARSTRÆTI
Colourful characters will cheer you on right before you run again to Austurvöllur in the arms of our beautiful dancers.
REYKJAVIK CATHEDRAL
Colourful arch and music outside of the cathedral.
FINISH: REYKJAVIK ART MUSEUM - HAFNARHÚSIÐ
The last stop will be at Hafnarhúsið, the same place where the run started. Music and lights will be filling the room. Get ready to dance! Don't forget to visit one of the photo booths before you leave.